Ventura Locksmiths since 1965!
Ventura Locksmiths store in Ventura started way back in the 60's.  Over the years the company has grown to be one of the most qualified and trusted locksmith companies in Ventura County.
We are a fully licensed and bonded locksmith.  Our California License number is #LC04873.
Our Ventura Locksmiths store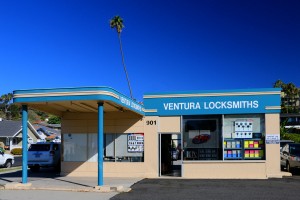 Today, Ventura Locksmiths, Inc. provides our customers with a fully stocked and staffed store at 901 E. Main Street in Ventura.  In our store you will find numerous upbeat and very helpful employees eager help you with any locksmith needs.  We carry a HUGE assortment of key blanks for your home, car or office.
We are the closest locksmiths to downtown Ventura.
So, our location has coffee shops, shopping, great restaurants, theater, the library, a museum and the beach all within a short walk.
Here you'll find we also carry an extensive selection of products related to keys and locks.  We have key fobs, key accessories, locks, safes, automotive ignition parts and much more.
You'll also find some of the best qualified locksmiths to give you fast service on your re-keying or duplicate key job.  We can provide the expert advice to help you with your home, car or office's security.
Fleet of Mobile locksmiths that get to you fast – 24 hours a day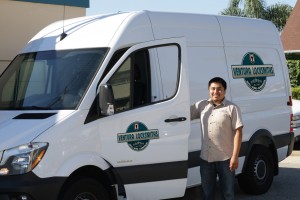 Our mobile locksmith vehicles are very-well stocked with parts and inventory to take care of your home, auto or commercial locksmith job — right on the spot!  Our locksmith technicians have the certifications, training and most importantly, experience to provide you with the most qualified locksmith services in town and locally.
Our highest priority is always doing the job well and properly the first time.  And getting there fast and completing the job quickly is also a priority with our mobile locksmith trucks.  We strive for a high percentage of calls that are completed on a single visit.  This is important to us because many other Ventura County locksmiths can't do this and it causes a major inconvenience to you. To make sure we get the job done on the first visit we do 3 things well:
Highly qualified, experienced and skilled locksmiths that get the job done right the first time.
We've invested heavily into equipping our locksmith vehicles with the tools, resources and equipment needed to do the job on the spot without returning.
We have also stocked each van with a large inventory of products for Auto, Home and Commercial locksmith needs.
We're really serious about giving you the best mobile locksmith service.
Our locksmith capabilities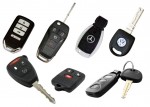 Automotive locksmith products and services:  We have all the major auto manufacturer's remote entry and keys at a more affordable price than the dealerships.  We can fix or replace your car's ignition and locks.  We also stock all the major manufacturers remote entry and keyless entry products (more than almost all Ventura County locksmiths).  We have a wide variety of key blanks available from decades old keys to the most modern.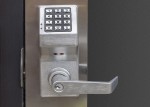 Office and commercial locksmith products and services:  Ventura Locksmiths is the chosen contractor for various Ventura City and Ventura County commercial locksmith services.  We are chosen because of our broad capabilities, our expertise and our outstanding service.  No matter what you need when it comes to commercial locksmith services, we have you covered.  From remote entry, keyless entry, secure entry systems, and much more – we can do it for you!
Home locksmith products and services: We can help you at your home with anything from a simple (and perfect) duplicate set of keys, to re-keying all of your locks, keyless entry systems, specialized and custom locks and much more.  Our locksmith trucks have what you need for your home security needs.